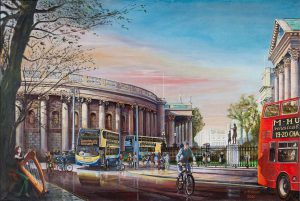 Aisling an Ógfhir or Bus Átha Cliath
Environmental portrait of my son Dorus
Oil painting on canvas (cotton) 100x150cm
November 2016
Aisling an Ógfhir or "The Young Man's Dream".
This is also the title of an old Irish melody written down in 1796.
It seems to have been the basis for the Londonderry Air, better known as either "Danny Boy" or "The last Rose of Summer".
In folklore and literature, Ireland is often represented by a young woman. She appears, lamenting her fate, in a dream (aisling) to a young man.
Reminiscences:
Aisling an Ógfhir "The young man's dream"
The Last Rose of Summer (Celtic Woman)
Lees meer