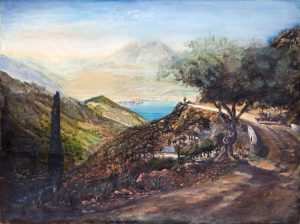 "Δρόμος"
Drómos (road)
A landscape fantasy
Oil on canvas (linen) 90×120 cm
December 1979
Is it because of the Greeks, their century-long history and its significance, or their friendly hospitality, or their music and their food? All true but …. it certainly also includes the landscapes that, unmatched in beauty, are an important attraction for me!
Reminiscences:
Μάνος Хατξιδάκις: "Ο Μύθος"
(Manos Hadjidakis: "The Story" (I'll tell you a story))
Sung by Nana Mouskouri.
Lees meer